What does it mean 'an unrecognized village'? Why do the Bedouin villages look the way they do? is there really a land theft? are they really nomads? why do the residents resist their uprooting? how did the Bedouin get to the Negev?
In the tours we shall answer all of those questions, and more! NCF offers alternative Naqab tours, wishing to allow the visitors an in-depth understanding of the state's policies towards the Arab Bedouin residents in related to resource allocation, state services and infrastructure. We will learn about the violation of the Bedouin's human rights, the challenges they face as a community today and about their rich culture and history in the region.
In the course of the tour we will explain the historical and political processes that have shaped the Negev and visit two types of settlement that have evolved as the result of these processes: an unrecognized Bedouin village and a government planned Bedouin township. We will meet with the residents and hear about their daily lives.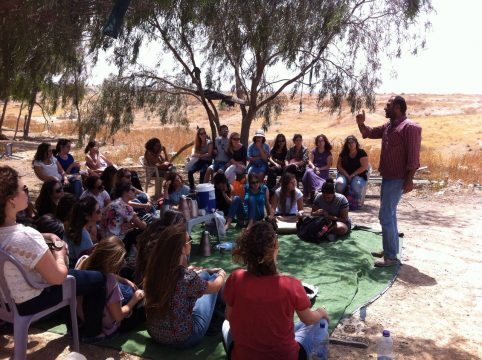 Participants of our tours include Members of Knesset, foreign diplomats, journalists, religious groups, local and international students and professors, and many other stakeholders. A typical tour lasts 4-5 hours, and we charge 500 NIS for a group (bus not included). In order to facilitate your tour, please fill out the form below, and NCF's tour coordinator will return to you shortly.
For journalists and public servants: please contact Arnon directly – 050-9391299, [email protected].