11.12.2012
11 December 2012
Be'er Sheva, Israel
FOR IMMEDIATE RELEASE
The Swiss Ambassador to Israel, His Excellency Andreas Baum, visited three Bedouin villages on a fact-finding mission to the Negev desert region of southern Israel on Tuesday, December 11.
The Ambassador's meeting with Bedouin leaders in the unrecognized village of Al Arakib early Tuesday morning was interrupted when half a dozen Israeli police vehicles sped over the hillside towards the tent the Ambassador was sitting in.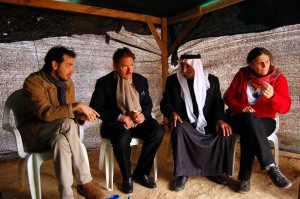 The Israeli police officers quickly forced the group away from the scene and a bulldozer proceeded to demolish tents in the village. The Israeli authorities have demolished Al Arakib 42 times since July 2010.
"We're citizens. The government must stop treating us like animals and start treating us like human beings," local resident Hakmeh Abu Medighem told the Ambassador shortly after the demolition.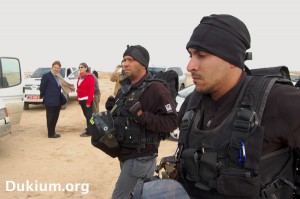 After leaving Al Arakib, Ambassador Baum visited a lookout point near the newly-recognized Bedouin village of Abu Tlul. From there, His Excellency toured a school and kindergarden, and visited the site of a recent home demolition, with leaders of Bir Hadaj, a village of about 5,000 residents in the Abu Basma Regional Council that was recognized in 2003.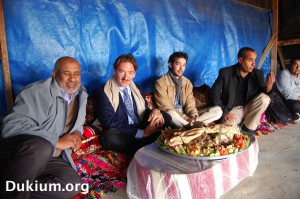 Lastly, the Swiss Ambassador visited Wadi Al-Na'am – the largest unrecognized Bedouin village in the Negev – and saw the dangerous daily conditions that residents suffer from, living in close proximity to a large electricity plant and several chemical factories.
The Negev Coexistence Forum for Civil Equality (NCF) welcomes the Ambassador's visit and Switzerland's support of NCF's work in the Negev. NCF strongly believes that diplomatic visits are important since they can help raise awareness internationally about the Israeli government's policy of home demolitions in Bedouin communities.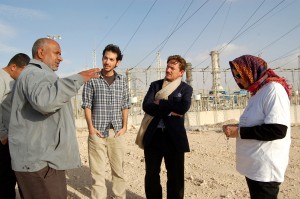 For more information:
Michal Rotem
+972-(0)54-585-1700, michal@dukium.org