09.12.2014
The members of NCF's human rights defenders network convened on the International Human Rights Day to summarize the year of 2014. During the day, the representatives of four unrecognized villages heard a lecture about human rights, held discussions about the project and viewed the variety of products of the project – presented in an exhibition that documents the human rights violations in their villages.
In honor of the event, each participant received a book that includes photos and texts about her village.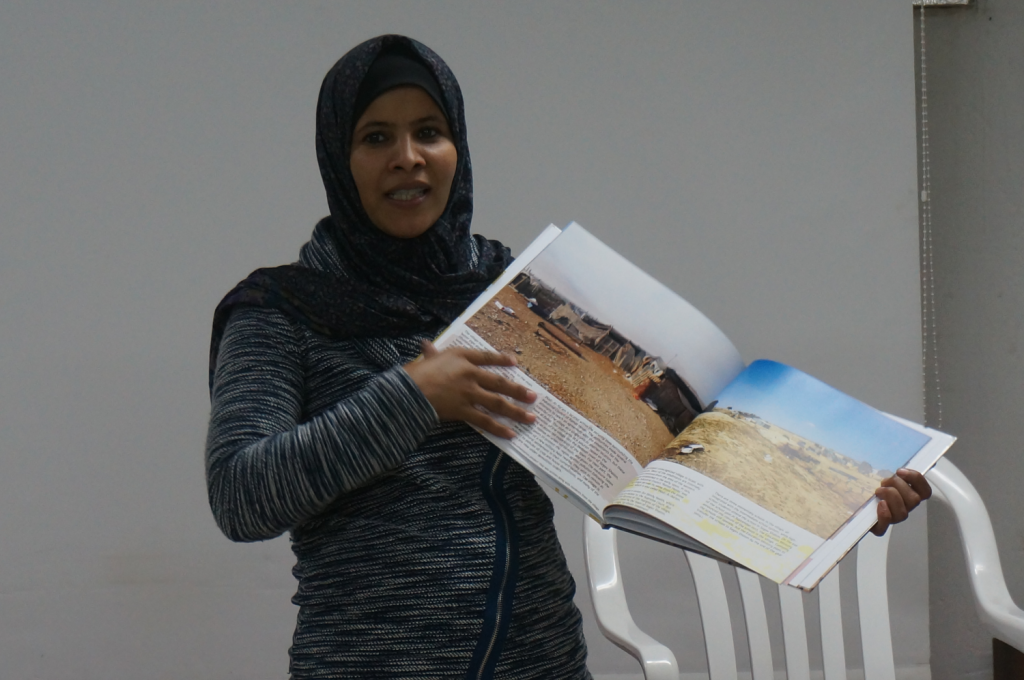 Yosra Abo Kaf, the coordinator of the project presents the books during the event
Poem from the book "Atir":
I drove through land of pictures
I walked many steps in your paths Atir
I climbed your hills
I watched your skies and fresh air
I loved taking your pictures my land
(Amal, Atir)
About the project: The Human Rights Defenders project enables the residents of the Bedouin unrecognized villages to learn about their rights and act as their own advocates through visual products. The human roghts defenders network of 2014 started in the villages: Atir, Wadi al-Na'am, al-Sira and a-Za'arura and consisted of 30 women. The aim of the project is to document life pictures that will become part of the collective and private memory, pictures of the family, the home and the village. The women who learned about their rights documented throughout the year their lives in the villages, all of them unrecognized villages where the future for them is uncertain.
The photos present a picture of tough reality a result of the state's victimization of its Bedouin citizens and the shameful treatment of tens of thousands of citizens and violations of their rights. Nevertheless the photos also show us a rich and full life. The documentation by camera is a rather new medium for the women who participated in the project, enabling them to show their personal angle and advocate for themselves. Not less important it enables them to decide and establish the nature of their village and keep it in the family memory.

The project is supported by the Rosa Luxemburg Stiftung