20.06.2014
Thursday, June 12: In the course of the legal proceedings in an attempt to stop the eviction orders, large forces arrived at the cemetery of Al-Arakib. When the court decided to delay the execution, the forces almost completed the destruction. All structures in the cemetery where the residents lived where demolished, water tanks were empty and taken away and the olive trees were already uprooted. The forces granted permission to finish the demolition and during the afternoon they removed the turret of the mosque in the cemetery. During the eviction of ​​the mosque area in order to remove the turret, seven people were arrested. Three minors were released at the smae night. Another activist was arrested in the morning and got released at the afternoon.
Video from the demolition by Silvia Boarini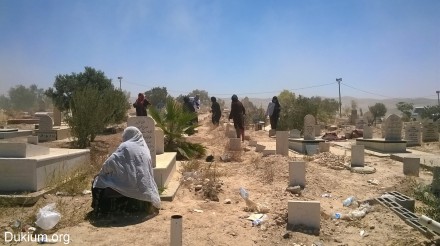 Friday, June 13: The Five detainees were brought to court in Be'er sheva, and in the meantime dozens demonstrated outside the courthouse. The court released two of the detainees with no conditions, two were banished from the village for a week, and the arrest of one was extended until Sunday. At the evening police arrived to the village and arrested two minors, one was released that night and the other was released on the next day. Police forces remained in Al-Arakib and they stayed in the village around the clock.
Sunday, June 15: In the morning demolition forces arrived at the village of Al-Arakib and demolished a couple of shacks that were built in the area. In the court hearing of the detainee from Thursday, judge decided to extend the detention until Tuesday. During the weekly protest of the village in Lehavim junction, policemen patrolled between protesters and filmed their faces on video.
Tuesday, June 17: At the court hearing, the detainee from Thursday was released to house arrest, with the possibility to work. During the night police vans came into the cemetery.
Wednesday, June 18: In the morning demolition forces came to the village and destroyed two shacks and a shed that were built in the village. In the afternoon a group of policemen entered into the cemetery and patrolled in the area.
Over the last week Yoav unit, the special police unit that was established as part of the Prawer Plan, took  measures that were not taken before, including the frequent demolitions, the presence of policemen around the clock and the entrance to the cemetery.
The residents of Al-Arakib are determined to continue their struggle despite the demolitions, the arrests, the police harassment and the difficult conditions they live in. Come visit the village and join the weekly protest on Sunday at 16:30 at Lehavim junction!
Transportation from Be'er-Sheva: Michal 054-5851700, [email protected]
Transportation from Tel-Aviv: Yaacov: 050-5733276, [email protected] or Michal: 052-6886867, [email protected]