Multaqa-Mifgash- Arab-Jewish Cultural Community Center
NCF believes that meeting the people at the heart of the debate face-to-face is an invaluable experience towards changing the way people think and dispelling myths and prejudices. Thus, in 2006, we opened the Multaqa-Mifgash Centre for Arab-Jewish Understanding in Be'er-Sheva. 'Multaqa' and 'Mifgash' mean 'meeting' in Arabic and Hebrew respectively and is thus reflective of the Centre's purpose of bringing communities together. It serves as a neutral meeting space for joint Arab-Jewish cultural, educational and political activities that encourage interaction and dialogue among the Jewish and Arab communities in the Negev. Through a variety of activities we provide opportunities for Jews and Arabs to come together in meaningful ways. The Centre is the first of its kind south of Tel-Aviv and today there are no more than three other places like it in Israel.
---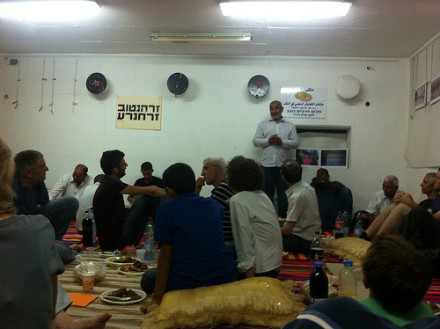 ---
Multaqa-Mifgash Activities during 2017
14 February | Students meeting at BGU about Umm al-Hiran and the unrecognized villages with Raed and Maryam Abu Alqian, residents of the village.
---
Multaqa-Mifgash Activities during 2016
20 January | Screening of the film "Beit Av" and a talk with the director, Meital Abekasis.
15 February | Public participation event – to think together about upcoming events at the Multaqa-Mifgash.
23 February | LGBT rights day – screening of the film "Guttman X 5".
7 March | International women's day – women's meeting with Ma'an.
29 March | Land Day and the Arabs of the Naqab – Screening of the film "Empty Desert" and a talk with the director, Silvia Boarini, and resident of al-Araqib, Aziz Abu Madigem.
12 April | Meeting and lecture by The Venus Project – thinking about a new reality.
3 May | Beershebian workers' day – lecture by Orna Amos about the phenomenon of contracted workers and explanations about how to read your paycheck.
4 May | The Holocaust and the Israeli Society – Panel with Prof. Yair Oron and Dr. Fatma Kassem Agbaria, led by Prof. Avner Ben-Amos.
6 June | "Let's Talk About East Jerusalem" screening of the short film "Green Zone" and talk with Lily Patishi from Ma'an and Erez Wagner from Free Jerusalem.
14 June | NCF annual join Iftar dinner.
20 June | Meditation with Sapir Peretz.
11 July | "After the War- Between Gaza and Sderot"- a lacture by Physicians for Human Rights.
27 July | Green creativity workshop with Kolboynik.
8 August | Testimony and Talk with Hiroshima survivor, to mark the 71st anniversery to the bombing on Nagasaki and Hiroshima. in collaboration with the Israeli Disarmament Movement.
7 September | Screening of the movie "Between Fences" and a talk with the film director, Avi Mugrabi, and one of its stars, Nuraldin Musa.
20 October | "Who is afraid of freedom of conscience?" a movie screening and a talk in cooperation with "Solidarity Human Rights Cinema" and "Yesh Gvul" movement.
7 November | Screening of the movie "That's Gila, That's me" and a talk with the director and the hero of the film.
20 November | New year opening event at the Multaqa-Mifgash – colorful musical event with arts and crafts stands and oud playing show.
28 November | Freedom of protest and the right for demonstration workshop in cooperation with ACRI and HRDF.
---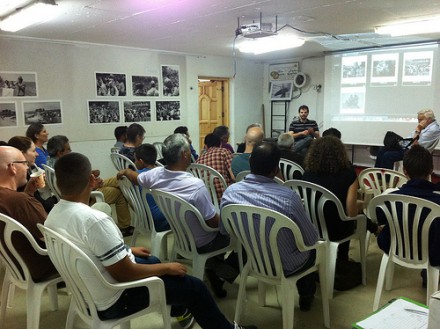 ---
The Multaqa-Mifgash Activities in Previous Years: