19.04.2019
This Passover, Jews and Arabs alike are saying:
"No ONE of us can be free until EVERYBODY is free"

(Maya Angelou)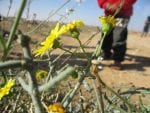 Photo: Khitam, Bīr Haddāj (2018)
In the Past year, NCF has worked to promote equality between the Jewish and Arab citizens of Israel in the Negev/Naqab.
We exposed the brutal policy of house demolitions and the state's failures in finding employment solutions for Bedouin women. We brought thousands of people to tour the unrecognized villages, in hopes of breaking down the barriers for a shared society. We had solidarity visits with hundreds of partners in Israel and around the world.
We demonstrated against the unjust imprisonment of Sheikh Sayah, a Bedouin human right defender, and lobbied the UN committees in order to pressure the Israeli government to ensure the protection and the implementation of the Bedouin people's rights.
In the name of freedom of speech, NCF fought (and won) in the Supreme Court so that it can continue the valuable work of the Multaka-Mifgash, the only joint Arab-Jewish cultural center in the Negev/Naqab.
But there are still many challenges ahead, and freedom for all is still out of grasp.
In order for NCF to continue its activities, we need your support!